You can request an export of your visitor log in CSV or PDF format. PDF exports can include your visitor photos and signatures from your legal agreement as signed during visitor check in. Start by selecting Visitor Log on the top left of your account navigation.
To the top right of your visitor log, click on the "Export Log" button, it looks like a cloud, that's in the upper right hand side of your visitor log.

When you choose the format for your export, you will then be presented with a window that allows you to customize what data is exported, who will receive the export, and when you want the export to be delivered. You can pick and choose what fields to include and even schedule your export to be sent automatically weekly or monthly!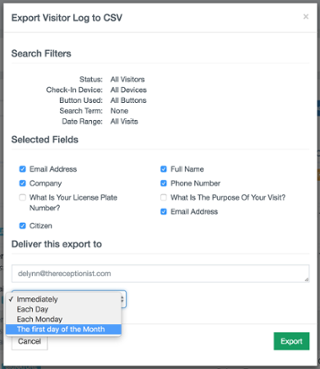 We'll send you an email with a link to download your report. It's that easy!